Never Again!
As we approach winter 2022 with an energy crisis looming - here's a story from my youth that acts as a warning of the perils linked to using a hot water bottle.
It was a freezing cold night and to be truly warm we needed to have the heating on, we begged our Mother, but oh no, the heating was only allowed if the dog Bach was cold, and he was fine! Her set response was, "Just get a hot water bottle and that will warm the bed up enough for you to get to sleep."
Hot water bottle Rules (PLEASE TAKE NOTE)
Never put boiling water directly into the bottle
Always have a cover
If there is any sign of deterioration in the plastic, do not use it.
I filled up the old, smelly, rotten, uncovered hot water bottle with boiling water and went to bed happily enough. I managed to drift off into a lovely deep sleep. Then, I was awoken by a terrible burning sensation in both of my legs. It felt like I was being dipped into a very large pool of boiling water. You could hear the sizzle of my skin like sausages splitting in a hot spluttering frying pan. I jumped out of bed, ripped off the pyjama bottoms that were sealed to my legs. I ran a cold bath and sat in it. On the plus side, I wasn't cold any more, not with those burns on my legs!
It wasn't getting any better, and every time I looked, I saw blisters emerging like bright pink rugby balls on the back of both of my legs. There was nothing else I could do at home; it had to be a trip to A and E.
Accident and Emergency
I spent a grim few hours in the waiting room with the drunks and the other unfortunates who were bleeding or gravely ill. The one thing we all had in common was we were all feeling really sorry for ourselves!
I eventually saw a nurse. The blisters had turned to a pease pudding dirty decaying yellow by this point. She deliberated bursting them – urgh, but decided a large bandage would do for now. I had a thigh to ankle bandage on the left leg, and an ankle to knee bandage on the right. And like a mummy from a particularly bad horror film I made my way back to the car.
Making the Best of a BAD Situation
I went back to a dry bed where I had to lie on my front. My way of dealing with the pain was to pretend I was sunbathing on a beautiful tropical island with the sun beating down and the surf caressing my ankles. The reality was too terrible, I had been told if I didn't rest and give the legs a good chance of healing, I would need to have skin grafts, which would mean a series of operations and permanent scars.
Luckily, I healed relatively well. I still have a large scar on my left calf, but you can only see it if you look very closely. I consider this a small price to pay in the circumstances. It was a very hard lesson in my own stupidity, and although I tell my Mam it was ALL her fault, deep down I know it was my fault really.
Never Again
You won't be surprised to note that the one thing I did learn was to NEVER use a hot water bottle EVER again, no matter how cold I am!
By Christine Thomas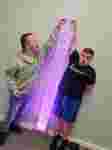 Films / August 8th, 2021
Young people from Consett Academy and Learning for Lifejoined forces to design and equip and new sesnory space. They challenged youth loneliness, broke down social barriers, built lasting friendships and engaged with local businesses. It was a fabulous project and we all loved every minute of it.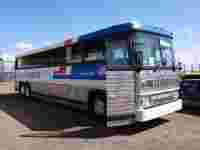 Blog / February 2nd, 2022
The Article in The Observer concentrates on film Greyhound Bus Moments, but I thought I would share with you all my own personal experience of Greyhound buses.
Podcasts / August 30th, 2021
Ben is a great example of someone who has worked really hard to get exactly where he would like to be. Having completed his degree, he has recently started on a graduate programme at the accountancy firm Haines Watts. He gives young people a great insight into the attitude and the approach needed to be successful.