A Greener Future for Stanley - Environmental Youth Ambassadors Project
A Greener Future for Stanley - Environmental Youth Ambassadors ProjectBuilding Self-Belief CIO supported North Durham Academy to create a beautiful Community Wellbeing Garden the aim was to create a wellbeing space that is both accessible and welcoming to the school and the community. As well as a space that will help to increase biodiversity in the area. We hoped to inspire young people to engage more with their environment as well as create a space they can be proud of.The Project wad kindly funded by Karbon Homes, The DWF Foundation and The Nineveh Charitable Trust.
Consett Heritage Project / June 7th, 2023
Shauna's contribution is the first in our series called 'Voices of Consett'. Our aim is to have over 100 editions from a whole variety of people who live in Consett. This is all part of our Consett Heritage Project. There will be recordings of the voices, and they will also be visually represented and form part of our final exhibition.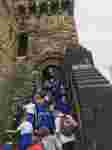 Youth Social Action / August 27th, 2018
The end of Year 6 is an exciting, yet daunting time for many of our youngsters. They are saying goodbye to the environment where they have felt safe and secure to embark on a huge adventure as they go on to 'big school'.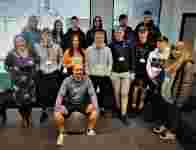 Aspirations and Future Planning / May 29th, 2021
Sixth Form students at North Durham Academy, Stanley, Co Durham, took part in our Bridging the Gap Between Education and Work programme. This programme is designed to enhance their employability skills, and raise their aspirations. It was a huge success!