Know Your Neighbourhood is an 18 month project where we will be working with young people in Consett to create a team of volunteers to support older people with a whole variety of services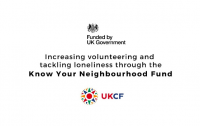 Our Know Your Neighbourhood Volunteers
This project would not be possible without our amazing volunteers. These people are part of Consett's local community and are making what we do possible.
Meet our team
Building Self-Belief Need YOU!
Through the Know Your Neighbourhood Fund, our mission is to train and give volunteering experiences to a whole host of people in our community. We have youth clubs and pop up events planned, and we need as many people as possible to train as volunteers and come along and support us. Our long term aim is to combat loneliness in Consett.If you would like to join us, complete the online form and we will be in touch!
Volunteer here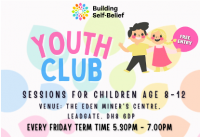 Building Self-Belief Youth Club
Venue: The Eden Miner's Centre, Leadgate. DH8 6DP
Food and activities will be provided.
FREE
Every Friday Term Time - 5.30pm - 7.00pm
Starting 27th October - ending 15th December 2023
Please Register through the online form, or contact Christine - 0191 4066377
If you would like to volunteer to support the sessions, please get in touch.
Book now
Take a look at the amazing work created as part of the 18 month project.
Find out more
Developing positive partnerships with other institutions is something we do exceptionally well. Without these partners, this project would not be possible