Celebrating and receiving recognition for our amazing youth programmes is always a privilege. We love sharing our success with our young people and other community groups within the local area.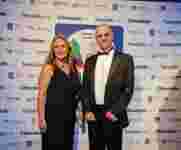 North East Charity Awards
As a Consett based charity, Building Self-Belief, were delighted to have made it to the North East Charity awards final on July 19th 2023, in the category of Outstanding Contribution to Social Change for their work with their Consett Youth Panel.
The judges loved the work that we do with the young people. Our Youth Panel support us on lots of our activities and community events, this has included working on community gardens in Consett and Stanley, Coronation events in Tow Law. And most recently working with local artist Tommy Anderson to create a new Youth Banner for Consett, as part of our Consett Heritage project. Some of them will also be attending the local community talks by ex-steelworkers, as well as conducting their own interviews and podcasts about the town.
Find out more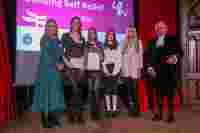 High Sheriff Awards
In March 2023, we had the privilege of attending the Durham High Sheriff Awards in recognition of our outstanding achievements. We received an award of £2,000 for the work we do across our projects. A huge thank you to The Sir Tom Cowie Charitable Trust who doubled our total on the night!
It was wonderful to celebrate the success of our amazing youth programmes, alongside other community and voluntary groups across County Durham, Darlington, Hartlepool and Stockton all working to divert crime. This event would not have possible without the support of Sir James Knott Trust, The Banks Group, Darlington Building Society, UKSE, Durham Constabulary, Durham Police and Crime Commissioners Office and Durham Shopping Extravaganza.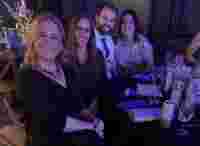 North East Charity Awards
In support of our Employability Programmes with Y12 students from Cardinal Hume School, Gateshead, we were guests of Haines Watts at the North East Charity Awards. Haines Watts were up for the award for Outstanding Charity Support by a Small to Medium Business. It was a fantastic evening and wonderful to have such amazing support from them!