Voices of Consett - David
I am 71 years old and was born in the Richard Murray Hospital at Blackhill, which was where everybody was born, and lived on Benfieldside Road in Blackhill. My father was a 'Bevin Boy', during the war you were either sent as a soldier or down the mines, if you were unlucky the mines were worse. He was put on a train from Birkenhead in Liverpool to Newcastle Station, where there were waiting double decker buses that were sent all over. The buses could have taken him to the mines at Crook or Stanley, but he was sent to Eden Colliery in Leadgate.
My mother's father was a miner as well, but all his family were Irish. He was the type who always had ducks and hens. He worked at the Eden Colliery too, where the women used to go to the pay department before the blokes got to the pub or played cards, because the women wouldn't see the pay otherwise.
When I was young you didn't notice the smells, the sounds, the flames and the slag heaps even though it was a big part of town. We used to go down to the 'Divvy', the River Derwent, and play down there or in the countryside. You did see the red dust on the window ledges, but it was always there and was part of life, so you didn't really notice it. I left school at 16 and got a few O' Levels, so I went in to the offices of the company. They were lovely offices and the people in them were great. There was a great social life too with all the sports that the company put on. I used to play bowls at 18 years old, I even remember being skipper and smoking woodbines while playing.
The offices has Comptometer operators, who used adding machines to do their calculations. Bob Randall was the Accounts Manager in charge of the pay department and the costs office. Most of the managers at the works were from Scotland as they seemed to make good managers. There was a steel works at Motherwell and they came down from there and brought their families with them. I worked at the steelworks a few times, the first time for 5 years, then I moved to London with my friends and hitched around Europe, I even worked at Butlins down south. When I returned to Consett, I got a job in the Plate Mill at the works and also at Thomas Swans the chemical factory. It was a case of go and have a good time, then come back and get a job at the works. It was easy to find work because you knew everybody at the works, it's harder now.
If someone wasn't at their job they were probably in a club. People used to clock each other off and share jobs and do that type of thing. The working men's club was massive, but now its hard to keep it running. I joined it at 19, but my friends got in easier because their fathers all worked at the steelworks, whereas my dad was from Birkenhead and a bit unknown. It was always harder for me but once you were with your friends it was all ok.
Hownsgill closed in 1979 I think and the major part of the steelworks closed in 1980. It didn't bother me because I thought it would be good for the town. The pollution would be gone, everything would smell nice and be green again, and there would be new technology, which is what I went in to. I ended up as a Data Comms engineer and spent 30 years doing that. The ones who struggled may have struggled anyway, some just drank their redundancy money and ended up with jaundice from being in the pub every day.
The town has good parts today but other parts that aren't'. What we've lost are the clubs like Consett Boy's Club and Consett YMCA, where I was on the committee for a while, but all the funding dried up. Politicians have a lot to answer for, they spend lots of money on things, but not what it should be spent on.
If I were teenage again, I would want a café to just play music and to talk and enjoy life. Who doesn't like getting dressed up and going out dancing? The Rugby Club used to play Tamela Motown soul music, the Freemasons had heavy rock and the Wheatsheaf as well, so everybody knew everybody, it was great. The Trades used to have acts on like Bobby Thompson so families and couples could go – Consett had a great night life. It's all about investment though – yes, we have houses but nothing else, we need doctors and dentists and things like that. The town centre has 'gone' whereas it used to be really busy. It is going to be hard to turn things round, not just in Consett, but in small towns across the country.
The steelworks put everything in to this town, the parks, the tech college and sporting activities, I think if we can get more young people volunteering and doing apprenticeships as they will really benefit from it from it, but it will take something from central government to really change things.
Find out more
Youth Social Action / August 9th, 2023
Building Self-Belief CIO supported North Durham Academy to create a beautiful Community Wellbeing Garden. The aim was to create a wellbeing space that is both accessible and welcoming to the school and the community. As well as a space that will help to increase biodiversity in the area. We hoped to inspire young people to engage more with their environment as well as create a space they can be proud of.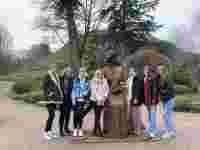 Aspirations and Future Planning / June 16th, 2023
No matter what stage you're at in life, having someone to talk to who you can trust is an invaluable addition to your personal and professional life. Thanks to Helen Cowan's offer from The Tall Wall, this is an additional service we can now offer our staff and volunteers.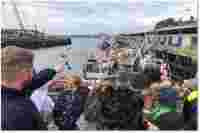 Youth Social Action / July 15th, 2022
During the summer term of 2022, we were thrilled to deliver our Heritage Programme to the children of Christ Church C of E Primary School. During this programme, the children researched the way that North Shields Fish Quay, and the local fishing industry, has shaped the lives of local people over hundreds of years.