Building Self-Belief CIO~Tow Law Primary School WW1 Heritage Lottery Project
On Remembrance Day we would like to reshare our fabulous World War 1 Project with Tow Law Millenium Primary School. It was a project that truly captured the spirit of Remembrance.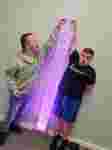 Films / August 8th, 2021
Young people from Consett Academy and Learning for Lifejoined forces to design and equip and new sesnory space. They challenged youth loneliness, broke down social barriers, built lasting friendships and engaged with local businesses. It was a fabulous project and we all loved every minute of it.
Blog / November 12th, 2021
It was a real privilege for me to be Chair of the Eco debate 'Going in Circles' organised by Engineering Today and After the Pandemic. Here is a brief overview of our discussion, as well as our suggestions about how we can move forward.

Blog / December 3rd, 2018
A committed team of Trustees have come together to launch a new charity in County Durham to help young people get the best possible start in life through empowerment and increasing personal self-esteem.